Great news! Inspired by some fabulous recent books, I'm adding a Paranormal category to my list of genres. It's signaled by this cute ghost icon: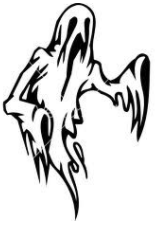 I don't do a lot of paranormal reading, mostly because I haven't found a lot of it that's geared toward boys. But I recently read two great ones that inspired me to add the genre to my list of recommended books.
Cemetery Boys, by Aiden Thomas
and
Anna Dressed in Blood, by Kendare Blake
I can't promise that I'll be quick to add more paranormal, but this is a good start.